GTC President Dick Hibberd fondly remembered by more than 200 mourners
A poignant but joyful memorial service to celebrate the life of President and Founder of the Guild of Television Cameramen, Dick Hibberd, took place on Thursday 24 September at St Thomas on the Bourne Church in Farnham. A private funeral for the family had been held the week before.
More than 200 mourners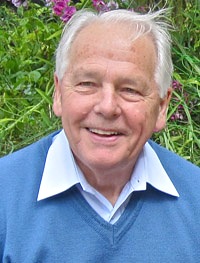 When the family were planning the memorial service with the church, they were advised that it's rare for more than 100 to attend, maybe 200 for a local dignitary, celeb or MP. In the event, on Thursday, more than 240 friends, colleagues and family members arrived to pay their respects to this highly respected, hugely popular and much loved man. Among the congregation were many GTC members including fellow founder members (John Henshall and Vernon Dyer), several past GTC chairmen (Mike Solomons, Dave Ballantyne, Brian Rose and Graeme McAlpine – apologies if I missed any) plus many other former and current GTC Council members, all of whom had had the pleasure to work with Dick in establishing and running the GTC over its 43-year history.
The service included moving and yet uplifting tributes from Dick and Jean's three children, Melanie, Richard and Stephen, memories from the best man from their wedding 61 years ago (Jean's brother, Douglas Matthews, who first introduced Dick to Jean), plus a eulogy from Dick's good friend, the GTC's "President of Vice" (as Dick liked to call him) John Henshall. Together these memoires provided many lovely insights into the home and family life of this "gentleman and gentle man" as he was referred to on several occasions during the afternoon (a term apparently also frequently used in the many dozens of cards Dick and the family received in his final weeks).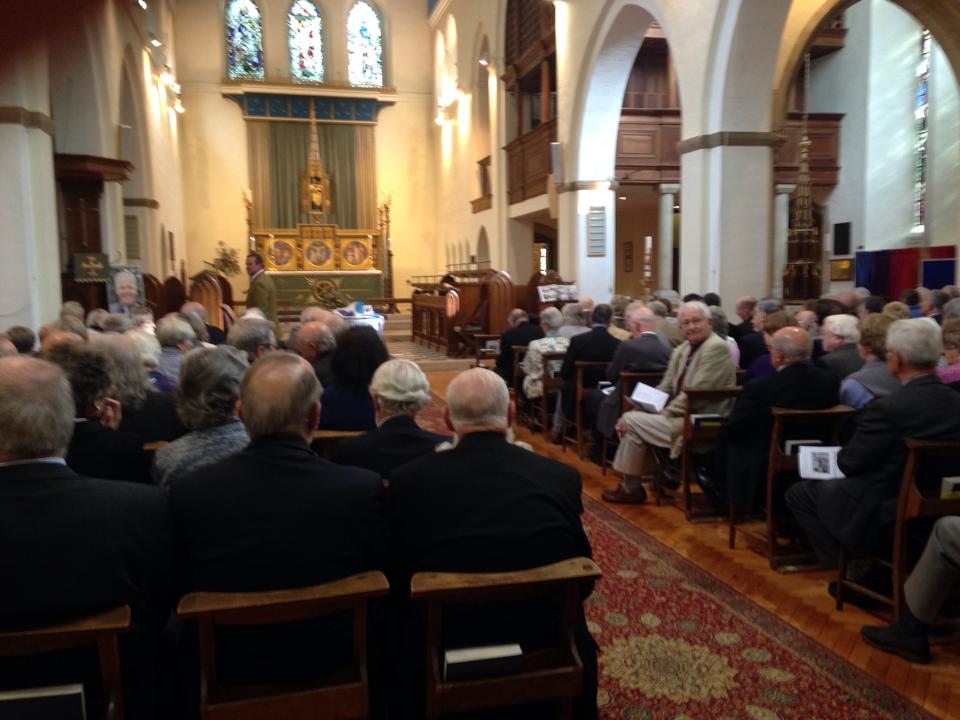 The whole afternoon was punctuated with many smiles and much laughter – just as Dick would have wanted it. His family was at pains to emphasise that this was not to be a sad occasion but a celebration.
As if on cue, after a pretty dismal week weather-wise, the sun came out and bathed the whole event in lovely gentle autumn sunshine. You can't help thinking that Dick would have particularly appreciated this – he remained passionate about good and 'appropriate' lighting to the very end, apparently speaking with great enthusiasm about some good cinematography on a series he had been enjoying on the iPad the GTC supplied to ease his final days in hospital.
Beautifully chosen readings and music
Throughout the service there were many nods to Dick and Jean's Welsh associations, including a reading from Dylan Thomas and the entrance music 'Calon Lan', 'Land of my Fathers' and 'Cwm Rhondda'. Another recurring theme in the service was Dick's lasting legacy at his home in Farnham where he has planted numerous trees, created a wonderful garden and generally improved the environment. This legacy was referenced in a poem 'Our Garden' beautifully read by Rhiannon, Dick's 19-year-old granddaughter, and also in the religious reading 'The parable of the mustard seed'.
Many in the congregation probably never had the good fortune to visit that beautiful garden, but nonetheless there was a similarity at the root of their reason for being at this service on Thursday. Just as Dick had the vision, drive and commitment to improve and nurture the environment surrounding his home, so he wanted to acheve something similar for professional cameramen. As much as this service was very much about family and friends, so it also embraced the very large extended family he had created – the organisation he dreamt up and founded in 1972, the Guild of Television Cameramen. And so important was this to him, that right at the very heart of the occasion was the GTC logo – a specially commissioned flag had been placed over the ashes, at the request of Dick's family.
Reminiscences and reunions
With the service complete, everyone adjourned to the neighbouring room for more fond reminiscences as well as an incidental good opportunity to catch up with colleagues and friends often not seen for many years (the kind of enjoyable reunion you just knew Dick would have been delighted to witness and take part in).
John Henshall had put together a very warm and entertaining slideshow from Dick's life, both private and professional, which perfectly illustrated – as Dick's daughter Melanie had mentioned in her tribute – the "funny, irreverent and mischievous" side to Dick. The presentation included and ended with several beautiful portraits of the kind and smiling face of this visionary man, whose life we were all there to celebrate. In addition to this, the family had put together a lovely photo album, humorously captioned, that gave a further nice insight into the life of Dick, Jean and their children.
As GTC Chairman Keith Massey remarked at the end of the afternoon, this truly was "a good send off for a lovely, lovely man".