GTC sponsors head to Poland for Camerimage
Many GTC sponsors including ARRI, Canon, Lee Filters, Panasonic, Rosco, Sony and Tiffen will be in Bydgoszcz, Poland for Camerimage this week.
Camerimage is the largest annual festival dedicated to the art of cinematography and work of cinematographers. The unconventional format of the festival, which awards films according to their visual, aesthetic and technical values, has evolved to become an alternative to traditional film festivals. Camerimage helps both young filmmakers as well as those already recognised in the field, allowing all to explore new artistic areas.
One GTC sponsor company that has been associated with Camerimage since the festival's inception is Tiffen Internatonal. Darek Kuzma, spokesman for Camerimage said: "We are extremely proud that our collaboration with Tiffen International, one of the first international companies that trusted Camerimage in its infancy, over 20 years ago, is still strong on every level, and evolving into something even more astounding each year."
Tiffen International at Camerimage 2015
At this year's festival, Tiffen International Ltd is offering the opportunity to get 'hands on' with the new Multi-Rota Pola Tray, the 138mm Variable ND, and three new diffusion filters: Black Pearl, Black SFX and Black Glimmer Glass. Representing Tiffen International at the Festival will be: Filter Consultant for the Tiffen Group, Carey Duffy; Rentals Manager of The London Filter Company, Eren Ibrahim; and MPTV.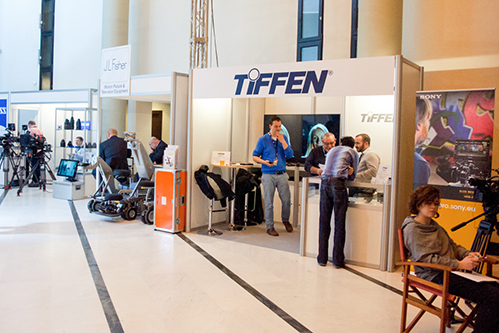 Carey explains:
"Camerimage is a unique opportunity for Tiffen to discuss, review and introduce its MPTV filter products directly to cinematographers, directors of photogaphy and student cinematographers, who use camera filters every day in their professional capacity. During the festival this year, we will be handing out our Split-Screen Diffusion Kits for working DOPs for testing. These test kits include our Black Pearlescent, Black Soft FX and Black Glimmer Glass."
Steven Tiffen, President and CEO of The Tiffen Company adds: "The festival offers a unique mixture of networking and showcasing the art and craft of cinematography. Screenings and workshops are hosted and presented on a wide range of topics that relate to the constantly changing and demanding world that cinematographers and DoPs work within. It is a festival where the world of motion images celebrates every aspect of its being."
This year, Garrett Brown, inventor of the Steadicam camera stabilisation system, will give a lecture entitled '
The Moving Camera
'.
Camerimage, The International Film Festival of the Art of Cinematography, takes place in Bydgoszcz, Poland: 14 – 21 November 2015