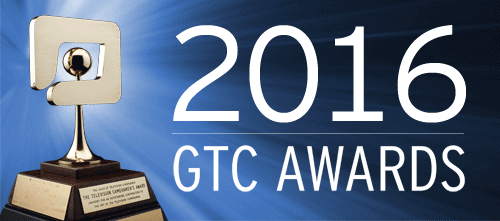 ---
Nominations for the 2016 GTC Awards are now closed
---
And the nominations are ...
GTC Awards for Excellence
---
The Sound of Music Live, ITV
Nominees: Camera supervisor Nat Hill and the camera crew
TX date/time: 20/12/15
Type of programme: Entertainment

Reason for nomination
When television started, everything had to be 'live' and crews grew up developing a second nature understanding of the finer points of each other's camerawork. But could this almost intuitive skill of working together as one survive in today's shot-by-shot style of film-like shooting? The Sound of Music Live really was live and had a hard act to follow: the $8.2 million 1965 movie starring Julie Andrews. Unlike the movie, this superbly photographed programme was shot in the time it took to perform just once, with no chance for retakes, by a camera crew that worked together as though it had done so for years. With many sets across many studios, this production amazed anyone who understood the complexities involved. Yet the camerawork was a real example of the finest unobtrusive creative storytelling from a crew working seamlessly together in the finest traditions of television camerawork. A true studio classic, unlike any other drama and music shot today.
---
The Hunt, BBC1
Nominees: The Camera Team, BBC Natural History Unit
TX date/time: Dec 2015
Type of programme: Drama

Reason for nomination
Superb camerawork under very difficult circumstances and conditions. The old classic when filming animals, you only get one chance… but this had interesting angles and superb use of slow motion. Beautiful photography of the highest standard.
---
The Detectorists, BBC4
Camera: Jamie Cairney
TX date/time: Nov/Dec 2015
Type of programme: Drama

Reason for nomination
Simple but stylish camerawork with each frame beautifully composed. If you like to see photography that is completely in tune with the script, then this is it.
---
India's Frontier Railways – The Last Train To Nepal, BBC4
Camera: Apal Singh, Principal Photography; Ankur Ahuja, Additional Camera
TX date/time: 3 September 2015
Type of programme: Factual

Reason for nomination
Beautiful classic television observational programme (one of three) by Indian railway specialist, director Gerry Troyna. The camera tells the story, using real people, not a presenter. How refreshing!
The Last Train To Nepal was a look at a railway line which runs for just 20 miles from Janakpur in Nepal to Jaynagor junction in India which is under threat of closure. The camera engages with the incredibly poor people who use this amazing rail service to eek out a pitiful living – some from smuggling – on this narrow-gauge, worn-out beyond words track. There are beautifully composed shots and angles on what is a photographic paradise of a world so far removed from the familiar. The camera emotionally observes but never intrudes and tells a real story of survival.
---
Rugby World Cup Final (NZ vs Australia), ITV
Nominees: Tthe camera team
TX date/time: 31 October 2015
Type of programme: Live

Reason for nomination
Consistently outstanding across the many matches of the entire tournament, which involved scores of camera operators, the excellent camera coverage of the 2015 Rugby World Cup was epitomised in the Final between New Zealand and Australia at Twickenham on 31 October. For those more used to watching football on television what really stood out was the degree of intimacy with the action the variety of angles the on-pitch and pitchside cameras offered. With replays playing a vital part in the referee's decision making, the crucial importance of the skills and consistency of the operators across a range of cameras took on an extra dimension beyond just the enjoyment of the viewing public.
---
Remembrance Sunday: The Cenotaph, BBC1
Camera team: Camera supervisor Jon Lord and crew; in particular Scott Stephens for the high-angle shots
TX date/time: 8 November 2015
Type of programme: Live

Reason for nomination
Remembrance Sunday is a yearly event with poignancy across the World, bringing many constants including the location, service and emotion. This nomination in particular focuses on the high-angle shots, which expertly and sensitively offered a unique image of familiar landmarks, completely in keeping with the essence of the Remembrance service.
Each year the camera crew have to blend into the occasion and frame precise, scripted shots without rehearsal. Echoing the production team's values, the crew's shot matching, frame development and, of course, accurate, informative picture composition convey the Remembrance at the Cenotaph to people's homes.
Exemplifying this was Camera 1, operated by Scott Stephens, 118m above London on Millbank Tower. He was exposed to the elements, with quite a breeze, radio working with an 86:1 lens, no return viewfinder and often scratchy talkback. Skillfully setting the Cenotaph and Whitehall into the tableau of London's iconic sky line, his shots brought us back from a VT of a Spitfire, timing the lead into the Big Ben 11 o'clock chime and poignantly witnessing the city pause as the nation remembers.
---
Ireland with Simon Reeve, BBC2
Lighting Camera: Jonathan Young
TX date/time: 22/11/15
Type of programme: Factual
Reason for nomination
The camerawork throughout the show was natural and complemented the subject matter. It was a pleasure to watch the excellent visual narrative throughout the show. In vehicles, in microlites, at sea, indoors, outdoors and in all conditions the standard of the show did not drop at any point. This is the high standard of programming that the public deserve.
---
Countdown to Life: The Extraordinary Making of You, BBC2
Director of Photography: Kevin White
TX date/time: 14/10/2015
Type of programme: Factual
Reason for nomination
The whole series was extremely well shot but the opening sequence of the first episode really pulled me in with its beautiful composition, incredible presenter positioning and, in particular, the stunning aerial camera operation. Other names were mentioned in the credits: Jon Sayers, Tom Hayward, Skypower and Helinews.
---
This is England '90, Channel 4
Director of Photography: Stuart Bentley and camera team
TX date/time: 27/09/2015 - 2100
Type of programme: Drama

Reason for nomination
The whole series has been amazing but the dining room table scene in Ep3 was breathtaking. Compelling and dramatic, the camerawork never once took away from the performances but at the same time it added so much to the finished programme.
---
Warrior Cossacks of Ukraine, BBC News
Camera: Owain Rich and Chris West
TX date/time:
Type of programme: Factual
Reason for nomination
An excellent range of camera techniques (drone shots, circular tracks, slow motion, timelapse and great closeups of action - are very well used to enhance the story-telling and to compile a visually interesting piece.
---
Dr Foster, BBC1
Camera: Jean-Philippe Gossart
TX date/time: 23 Sept 2015
Type of programme: Drama

Reason for nomination
Over all great lighting. A lot of hard source high key lighting with a consistent quality.
---
BBC This World – Secrets of Mexico's Drug War, BBC2
Camera: Jonathan Young
TX date/time: 11 Mar 2015
Type of programme: Factual
Reason for nomination
The programme combines camerawork that supports the narrative throughout. It has been shot with care, consideration and sensitivity to the topics. You can tune into this programme at any moment and you will see that the camerawork is stunning.
---
SKY News
Camera: Garwen McLuckie
TX date/time: 11/09/2015
Type of programme: Factual
Reason for nomination
The subject for this special Sky News report by cameraman Garden McLuckie was the plight of migrants leaving Turkey to go by boat to Greece.

He and the Sky correspondent, Alex Crawford, filmed and joined migrants being transported at night in an open-top lorry, which had a badly torn canvas roof, to a point of departure where they all boarded a boat to take them to sea.

McLuckie filmed this under great hardship in the lorry and the boat to bring the reality of the life-threatening dangers that migrants experience in order to reach the Europe they want to live in.

McLuckie was filming in a small boat with outboard motor and captured the emotion of the migrants who at one time were threatened by the Turkish Coastguard patrol whose vessel wash seriously destabilised the migrants boat. The photography was under very demanding and dangerous circumstances and he conveyed the story very graphically with his camera – which had a happy ending with the refugees arriving safely in Greece.
---
BBC Promanade Concerts, BBC2
The Camera Team
TX date/time: August to Sept 2015
Type of programme: Multi-camera (Studio or OB)

Reason for nomination
The Proms show just how excellence has not been lost. All the camera work was outstanding and quite invisible, taking the audience through the music and performers in a totally natural way. Every time every camera was on cue. One can't hep but believe that everyone involved understood and enjoyed the music. If selected, the Award will probably have to go to the Camera Supervisor, but it is the Crew that made it happen.
---
Iceland, Episode 1,BBC2
Director of Photography: Ian Llewellyn
TX date/time: 1/5/2015 2000
Type of programme: Factual

Reason for nomination
A beautifully shot documentary with superb frames showing us the landscapes and wildlife of Iceland including volcanoes. Even a static 2-shot of father and son farmers was lit stylistically to keep your attention. Also just enough use of cranes and GoPro to show the material at its best.
---
Ballot Monkeys, Channel 4
Director of Photography: Martin Hawkins
TX date/time: 21/04/15
Type of programme: Entertainment

Reason for nomination
Overall brilliant production.
---
The Secret Life of the Shannon, BBC2
Director of Photography: John Murray
TX date/time: 16.07.15 21.05
Type of programme: Natural history

Reason for nomination
We are used to the highest production standards in wildlife filmmaking nowadays and are perhaps becoming blasé to the techniques employed. This film though left me speechless with wonder and enjoyment as it captured the River Shannon's ever-changing moods through the four seasons as it explored the waterways, islands and lakes that make up this Irish river system.
Cameraman and director John Murray and his support team of cameramen made great use of a Phantom high-speed camera shooting at 1000fps to capture many striking images including kingfishers diving for prey. His coverage overall was relaxed and beautiful to behold as were the observations and contributions from naturalist Colin Stafford Johnson whose canoe journey we followed.
Produced by Irish production company Crossing the Line for RTE and shown on BBC2.
---
BBC coverage of Wimbledon Tennis Finals, BBC1
Nominees: The entire Wimbledon Tennis Crew
TX date/time: 11–12.7.2015
Type of programme: Sport
Reason for nomination
All camera work was superb and the average viewer was never aware of the expertise of the television cameramen. As it should aways be!

On the corridor walk to the Centre Court, down the stairs and through doorways, the framing remained steady throughout, and deserves an award in its own right. Superb steadicam operation.
---
Wolf Hall, BBC2
Cinematography: Gavin Finney
TX date/time: January to February 2015
Type of programme: Drama

Reason for nomination
The director's vision for this series was that it should look as if they had just "dropped in to Cromwell's world with a camera and started filming". This brief required DoP Gavin Finney, who operated first camera himself on the whole series, to shoot this high-profile drama almost entirely handheld. Furthermore, in order to take this 'realism' to the nth degree all the interiors were lit almost entirely by candlelight.

This quest for ultimate naturalism paid off in spade loads creating one of the most talked about dramas of recent years, with even the mainstream press commenting on the cinematography along with the extraordinary performances, superb costumes, design and locations.
---
Japan – Earth's Enchanted Islands/Honshu, BBC2
Camera: John Brown and the Camera Team
TX date/time: 2100. 8/6/2015
Type of programme: Factual
Reason for nomination
A beautifully shot programme – informative, entertaining and a delight to watch, with excellent framing and camera moves. It was a complete pleasure.
---
Slow TV - Blade, BBC4
Camera: Andrew Muggleton
TX date/time: 04/05/2015
Type of programme: Factual
This programme was nominated by two GTC members separately.
Reason for nomination
Beautifully and lyrically shot, with no commentary at all, this programme concentrates on the subject itself, without the camera intruding for one moment. The series Slow TV really shows how the camera can be used to create beautiful, totally watchable images: art artfully shot.
Reason for nomination
A refreshingly slow and carefully considered film. Every single shot was so beautifully composed and developed in such a natural way. Combined with equally engagingly focused sound recording, it really drew attention to the beauty in the everyday that others might not see.
---
GTC Seals of Approval
Hillrigs KlikTrak and KombiDolly system
Reason for nomination
Hillrigs is a very inventive portable dolly system. It offers innovative and practical solutions to improve the key issues that were present with other portable dolly systems on the market. The ease of use has reduced the assembling time and given more flexibility during the shoot, and yet it is robust for hard use on set. The company has also provided exceptional customer service by listening to its users and continually improving their product.
---
The Kerrikart
Reason for nomination
As a lighting cameraman, having to carry one's kit to and from location can be a pain – especially if, like me, you are disabled.
Then, the dreaded words: "Oh, and we need grips or a slider or a ubangi." My heart sinks at the thought of yet more kit to carry... well, Montreal DP Bill Kerrigan must be on the same wavelength.
Bill has redesigned and re-engineered an ordinary MSE Mathews dolly, built in Doughty lighting supports, plus a fully customised full-size camera slider. No more resets, one can move the entire setup from location to location or even just a few feet away with no fuss... plus cart one's kit about much more easily. MSE and Bill proudly displayed the dolly at last year's NAB.
The Kerricart is for me one of the great innovations of the year and I wholeheartedly nominate Bill's invention for a GTC Seal Of Approval 2016.
Where to next?